Allow us first to introduce you to this excellent online casino before we go on to elaborate on its blackjack options!
A Bit About BoVegas
BoVegas hit the virtual ground running in 2017. It attained its license courtesy of the government of Curaçao, and it is a partner of the AffAlliance group. The software provider for this vegas-inspired casino is RealTime Gaming.
It employs 256-bit SSL encryption which means you are guaranteed your information will be safe, and because they use a Random Number Generator, you're assured of 100% fair gameplay. Unfortunately, players from certain jurisdictions are not allowed on the site, so do check if you're from one of these eight countries. Otherwise, it's a highly inclusive casino, allowing players even from the United States.
BoVegas Game Selection
The site is sleek and easy to use, and you can browse games quickly, thanks to the tabs available. You can play them online, download them, or even from your smartphone.
You can click on the New Games tab and see what's fresh and exciting or on the Hot Games tab to check out what's trending right now. There are even several progressive jackpots.
There are over 160 virtual slot machines to choose from, with fan-favorites like and Shanghai Lights. There's a total of 16 video poker options, as well as 12 specialty games, including favorites like Sic Bo and Keno.
Currently, BoVegas boasts a selection of 21 table games, eight of those being blackjack in its many variations.
Eight Exciting Blackjack Options
BoVegas doesn't have the biggest offering when it comes to blackjack, but it ticks all the boxes! With so many variations of this casino game, they have carefully selected the very best.
All incarnations of blackjack are known for their low house edge and, therefore, high RTP, and the options available at BoVegas do so too. All the buttons are clearly placed, so players can drag their coins to the betting circle, click on Deal, Hit, Stand, and so on.
You can choose from:
1.Blackjack
2.European Blackjack
3.Face Up 21
4.Match Play 21
5.Pontoon
6.Suit 'Em Up
7.Super 21
8.Perfect Pairs
Blackjack
The original blackjack entails a deck of fifty-two cards, and six (virtual) decks are most often used. The goal is to get a total of 21 (a blackjack) or at least more than the dealer without going bust (in other words, going over 21).
You get two cards, to begin with, and so does the dealer, but you can only see one of theirs. If you Hit, it means you want another card, and if you Stand, it means you're good with what you already have. You can Double Down your bet in most game variations, and you're automatically given just one more thereafter. You can Surrender in some versions (forfeit half your pledge, but not lose it all) or Take Insurance (meaning you believe that the dealer won't get blackjack if they already have an Ace). You're allowed to Split several hands as well, usually if your starter cards are identical.
The classic payouts are 3:2 for a blackjack hand, 1:1 for any other winning hand or, if there's a Push (a tie with the dealer), you just recoup your wager.
The BoVegas version of this game is as smooth as it comes, with all the casino vibes you need to enjoy as you play present.
European Blackjack
In the European-style version, the dealer just gets one face-up card, and it remains so until the players are done playing their hand. The main difference is that the dealer must, by default, hit on a soft 17, which is what balances out the odds for the player. Doubling down for the players is only allowed for card value totals of 9 to 11.
Face Up 21
This variation has, just as it sounds, face-up cards and no hole-cards; specifically, the dealer reveals both.
Of course, this advantage allows the game to "cut corners" when it comes to the payout ratio, so a blackjack pays 1:1 instead of the standard 3:2. If it's a Tie, it will not be a standard "Push" but a victory for the dealer, except when you have a natural blackjack. Furthermore, you can double your bet and if you choose to do so, get just one extra card if you have a 9–11 total. You can do so even after a Split (which you may do two times, or once if you have an Ace). The dealer is required to hit if they have a soft 17.
You can't play Insurance since you can immediately see if the dealer has an Ace or not, so it's not an option.
Match Play 21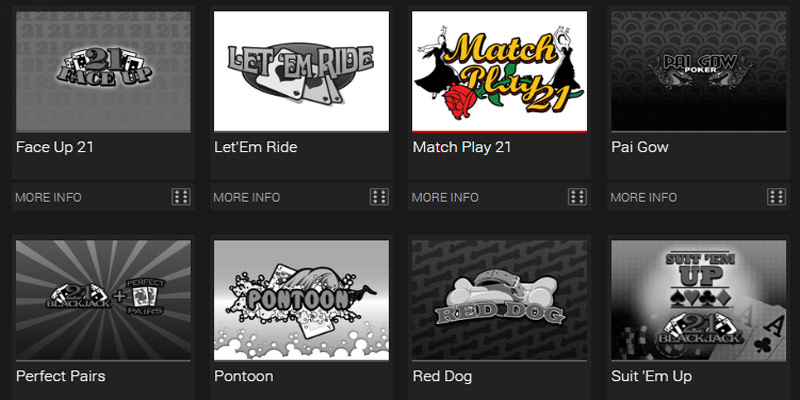 This version of blackjack is true to its origin in a way because it uses the Spanish deck. That means there are no 10s in the deck, just the Face Cards which have a value of 10, so there's 48 cards total. Of course, this means that the odds of getting a blackjack hand are lower, but the game does have its compensations.
If you get three suited 7s (the total of which is, obviously, 21), you win. You have to have two of those 7s, and the dealer will have the third. The suited 7s glorious payout is 40:1.
When you have a 6-7-8 Spades, a 7-7-7 Spades, or seven cards that add up to 21, the payout is 3:1. Also, you can expect a 2:1 payout if you draw three suited 7s, a suited 6-7-8, or a 21 total made up from six cards. You also win with a non-suited threesome of 7s, non-suited 6-7-8, as well as six cards that add up to 21, and having five cards that add up to 21. Finally, a natural blackjack pays 3:2.
The dealer is obliged to Hit if they have a soft 17, whereas you are allowed to Double Down, take Insurance, Split up to three hands (only one time for Aces), and you can Surrender whenever.
Note that your blackjack is not a Push if the dealer has one also; in this variation, it means you win! That's undoubtedly one of the draws of the game despite the deck size.
Pontoon
So, while the aim of the game is to get a 21, doing so with an Ace and a 10-value card won't be called "blackjack," but rather "pontoon!"
However, the real kicker is the fact that you can't see either of the dealer's two cards! So you'll need a sharp intuition, or else, you'll sink like a little pontoon boat in dark waters…
Unlike the standard game, your pontoon isn't a Push; rather, you lose to a dealer's pontoon.
Getting a soft 17 means that the dealer must Hit, but players also have automatic rules — you must Hit if you have 14 or lower. 15 and up means you can choose to Stand.
You can draw more than one card after a Double Down, unlike typical blackjack variations. You can do this even after a Split, including if you've done so with Aces. If you get a blackjack — pardon us, pontoon — after a split, it pays the same.
Getting a pontoon hand pays out 2:1. You get the same payout if you have a 5-card-trick hand, which means having 21 or less with 5 cards. However, if the dealer also has a 5-card-trick hand, you lose.
Suit 'Em Up
Using the general standard recipe, Suit 'Em Up mixes it up with a side bet, where you're paid handsomely if your originally dealt cards are suited.
If you have suited Aces, enjoy a whopping 60:1 payout. A blackjack that is suited pays 10:1, any pair that is suited pays out 5:1, suited 11s pay 3:1, and any other card duo that is suited pays 2:1.
You're allowed to take Insurance, and if you tie with the dealer, it's a Push. And once you collect your payout, you keep playing the game as usual. How great is that?
Super 21
This is a type of American-style blackjack played with eight decks and is one where you can Surrender. If you get a blackjack hand, you only get a 2:1 payout, but again, other things offset this. For one, your blackjack always wins.
You may Split two times per round (once with an Ace), and you can Double Down as well as take Insurance. You may Surrender even after a Split or Double Down. The dealer has to hit on a soft 17 automatically, and your blackjack isn't a push if it's a tie; instead, you win.
If you get a blackjack formed with cards from the Diamond suit, you're paid 2:1. If you just get six cards and you don't go over 21, you win 1:1, and you get the 2:1 payout if you have a 21 total created by five or six cards.
The BoVegas version features a simple design and is an incredibly enjoyable experience.
Perfect Pairs
This variation stands out with a perfect pairs side bet, which is, of course, optional. It's a classic 52-card deck game, and the dealer has one Hole card. So apart from the classic ways of winning at blackjack, you will truly win big if your first two cards are a pair. Of course, this side bet has to be made before the game starts and any cards get dealt.
If you get the highly desired same-color-same-suit pair, the payout is 30:1. If it's the same color only, the payout is 10:1, and if it's with different colors and suits, then it's 5:1.
Naturally, the BoVegas version runs smoothly and seamlessly.
BoVegas Bonuses
Like all outstanding casinos, you have multiple welcome, daily, and monthly offers, and of course, an excellent VIP plan. We've prepared a brief overview of all the treats you can expect to get when you play at this site.
Welcome Bonus
This is great for all the slot-lovers out there because you stand to win a total of $5,500 if your luck holds out. The bonus is two-fold, and once you play through the first, you are eligible for the second.
You trigger this bonus by wagering at least $25 to get a 250% slots match. You then must meet the 30x wagering requirements that include the deposit and bonus amount, but the good news is that there is no maximum cashout! Use the code BOVEGAS250.
After you've successfully played through this, you may use BOVEGAS300 as the code to get a 300% match; the same wagering requirements apply.
Daily Rewards
Currently, you can get a 180% bonus match on the famous Zhanshi slot, along with 45 free spins. These options change daily, so keep a lookout for them when your favorite game gets its turn!
Monthly Specials
When it comes to monthly awards, these rotate each month — obviously. At the time of writing of this article, there is both a slot games bonus as well as one for card games! Card games get a match bonus of 80%, 100%, and 125% when you put down a minimum of $25, $75, and $150 respectively.
Like with the daily awards — keep a lookout!
And do read the Terms and Conditions carefully because you'll find that all match bonuses for card games such as blackjack require you to wager the deposit and bonus sum total 35x before you can claim any winnings.
Other Bonus Options
You can get a No-Deposit Bonus if you email the casino and ask for one, so do be proactive! There's also a Free Chips and Free Spins option, a Weekly Cashback program, as well as a Comp points option.
Again, do go to their clearly-written Terms and Conditions page to educate yourself on your rights and responsibilities when it comes to the bonus offers.
Deposit and Withdrawal
This process is simple at BoVegas, as it should be. The processing times are brief, so you can focus on your gameplay.
Naturally, the data you submit must be verified when you make a deposit, and once again upon withdrawal. This last approval can take up to four business days.
Deposits are available via credit cards, Visa as well as MasterCard, or the trendy Bitcoin and Secure Payment Voucher. The minimum amount is $25 for all methods, but the maximum varies, so do consult the BoVegas Banking page for more details.
When it comes to withdrawal methods, you have Visa, Mastercard, and Bank Wire. Do note that $2,000 is the maximum you may withdraw per week, which is quite generous. The money is sure to reach your account within three to seven business days.
Customer Support
This service has already gained a reputation of being incredibly friendly, which is undoubtedly a hallmark of any proper casino. They seem to honestly care about giving you the best player experience.
You can contact the staff through Live Chat at any time; you may also email them with a larger query or even call one of four toll-free numbers.
To Sum It Up
While BoVegas is new, they've already built up a solid reputation. The casino has a well-thought-out theme, and its chosen gaming provider is a big part of the reason why the site runs so smoothly.
The blackjack options have been selected because they cover most of the game's variations out there — certainly the most popular ones.
Overall, this casino is an excellent choice of an online gambling site for any game you're in the mood for, blackjack included!